ACMI designs, installs and implements the first IBM Blockchain "on premise" project in the World.
The blockchain has become one of the most important technologies to emerge in recent years. Many experts believe that this technology has the potential to change the world over the next two decades.
The applications of the blockchain seem close to infinity. If we immediately think about its financial applications, the blockchain can also solve problems and other industries.

IBM Blockchain Platform on IBM LinuxONE is a ready-to-use HyperLedger Blockchain solution, which allows you to implement a Blockchain solution very quickly and operate it in an industrial way.

Discover in video the exceptional testimony of SLIB, the first company in Europe to have implemented this solution to build the platform of exchanges and retention of unlisted securities for the financial center of Paris.
SLIB revitalizes the unlisted securities market with IBM Blockchain Platform running on IBM LinuxONE
Unlisted securities can offer investors better-quality stock at lower prices than their listed equivalents. Just think: get in early on a startup that disrupts the marketplace, and the payoff could be very profitable. Yet, traditionally, brokers can find it difficult to access this market.
At SLIB, we set out to help facilitate the trade of assets in the domain of unlisted securities that are seeking liquidity and that have low capital requirements. We were asked by a consortium of nine banks to transform this area through digitalization. With help from IBM LinuxONE Solution Provider ACMI, we're succeeding in breathing new life into unlisted securities markets.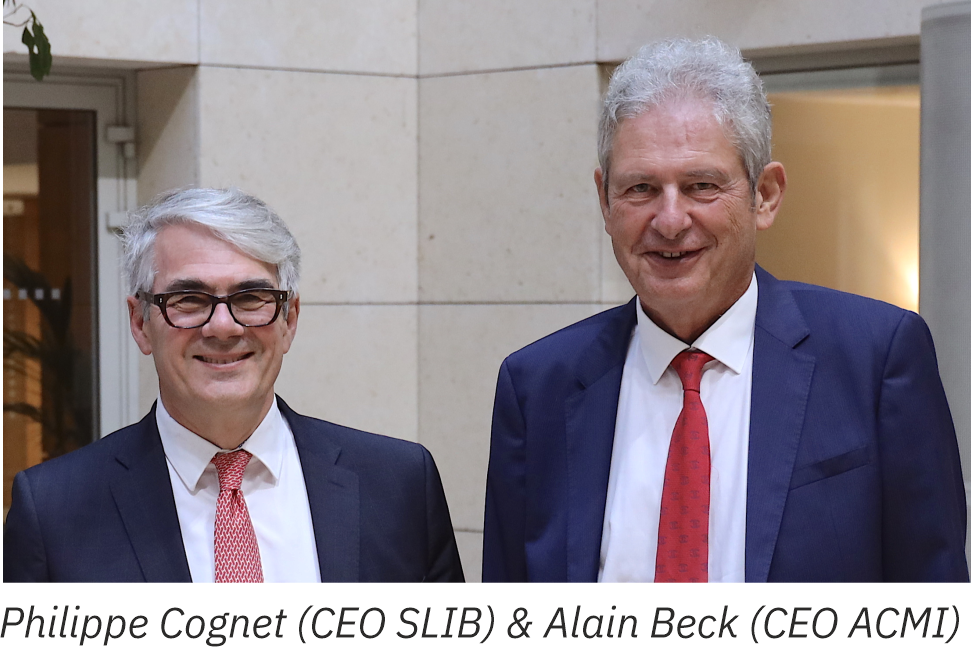 Understanding the challenge
Today, it can be difficult for buyers and wait for it be processed manually.
For SLIB, this represented an unmissable opportunity. We're a leading securities service provider operating in France and beyond. Offering innovative solutions to the financial industry is our specialty.
The nine banks that commissioned this project are already responsible for 50 percent of the market for unlisted securities in France. They recognized that this was an area ripe for transformation through automation, and called on us to help make that change happen.
Refining the vision
When you think transparency and the book-keeping registers of unlisted securities holders.
We enlisted the support of our long-term partner ACMI to advise on the best solution for our requirements and budget. ACMI helped us find a reliable, industrialized platform for Blockchain: IBM LinuxONE technology.
IBM LinuxONE solutions deliver on multiple levels, including security, reliability and tested. IBM enterprise server technology is used throughout the banking sector, so we knew that the choice would put our clients' minds at rest.
The embedded hardware security module (HSM) allows us to manage private keys at a level of security that is second to none. We chose Docker Enterprise Edition as our container platform and scalability simple.
ACMI demonstrated agility throughout the project, helping us to adapt the architecture to meet the different requirements of each of our nine banking clients. The company is leading deployment and will manage it for us once it's in production.
Creating RegistrAccess
Working with IBM and ACMI, we developed RegistrAccess so that it's compatible with multiple platforms. Customers will find it easy to integrate the solution with their own systems. If they want to keep things separate, we also offer basic services via an easy-to-use client interface.
RegistrAccess will streamline information exchange between issuers of securities not admitted to the operations of a central depository, their agents and account-keeping custodian banks. It will also digitize shareholders' registers.
Issuers or their agents in charge of register book-keeping will have an easy and secure solution that will provide comprehensive, up-to-date visibility of their securities. With RegistrAccess, they will be able to confirm deeds of transfer while updating their register, regardless of the size of their organization. Custodian account-keepers will have a fully digital solution that automates the entire process.
Trading with confidence
RegistrAccess will bring revolutionary efficiency and more accurately.
Our solutions will give every stakeholder in a transaction comprehensive visibility. For the first time, investors will see where their funds are going in a way that was only possible for listed securities in the past.
Best of all, we will introduce new fluidity to the unlisted securities market, making it easier to buy and non-financial – as well as the stakeholders on both sides of a transaction.
This is just the beginning. Once we launch our platform, we'll be able to use it to help people trade anything of value. For example, we could link our tokenized marketplace platform to RegistrAcces in order to manage non-financial assets like works of art or even race horses, and insight.
« As a long-standing partner of SLIB, we are very proud to have supported our client in the design and implementation of his Blockchain infrastructure.

The choice of both the IBM Blockchain Platform and the IBM LinuxONE servers was quickly established, thanks to the strong involvement of the IBM Blockchain and Systems teams at the highest level.
The success of such a project depends on the continuous engagement of IBM, SLIB and ACMI teams: this is a true team effort that continues. »

Christophe Gallet, General Secretary, ACMI